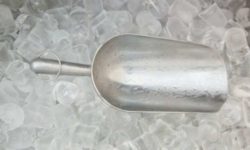 When you have company at home, it is important to be prepared, especially if a party suddenly happens or you just want a cold drink without having to plough your way through your freezer. If you want to be prepared for these eventualities, why don't you check out the DELLA 048-GM-48183 Portable Ice Maker?
Features
Ice in huge quantities from a small machine? It is no problem with this ice maker from DELLA. This certified ice maker will give you high-quality ice in as fast as a 6 minutes and other ice making features you won't see in other products. Here is the full list of features by the DELLA 048-GM-48183 Portable Ice Maker:
This small ice maker can produce 26 lbs. of ice per day and hold it using its ice basket that can hold up to 1.5 lbs. of ice at each time
Installation is very easy with this machine as you only need to plug it, add some water and it is all set to create ice
This ice maker also comes with an easy-to-understand control panel and LED lights which helps you determine if the ice basket is filled or needs to be filled with more water
Users have two options when it comes to the size of the ice cubes
The machine also comes with a removable tray to help users get the ice faster
It is certified by the ETL, CSA and UL, ensuring that this product is safe to use.
The features of the DELLA 048-GM-48183 Portable Ice Maker, it will certainly win some points. However, before purchasing any product, learning what it is like from a past or current owner is crucial since it will or will not prove whether the machine can do the job. Check the reviews below from buyers of this product and see how well it did for them.
Pros
For some users, this ice maker is a good choice and investment buyers should consider buying after checking it out. The ice maker is very small, making it easy to fit anywhere. It is also very good looking thanks to its automotive-grade finish and beautiful design.
Users say that it was able to make ice good for 15 people all night and still make a lot more ice afterwards. It was also very easy to set up and get it making ice; ice was also made as fast as 5 minutes or less, according to some users. The operation of the machine is also very quiet.
Users also love the fact that the ice does not melt easily, and if it did melt, the melted ice would be transformed again to ice as it caught in a reservoir.
Cons
For some users, the DELLA Ice Maker has many faults that potential buyers should consider before they purchase it. Users say that this machine is not very good and malfunctioned after a few months. Some users also complained about the ice this machine makes because it smelt like plastic or a foul chemical which affected their drinks.
Users report that even if they thoroughly cleaned the machine, the smell remained. The design also triggered some other problems for this ice maker according to some because they reported issues like a noisy motor and flooding.
Another user reported that the machine also tends to make errors like saying it needs water to make ice but there already would be water in the machine. Users also concluded this machine is not good for heavy usage due to the fragile nature of the interior unit.
The cubes are also small and very wet, causing them to stick to one another and make it difficult to remove from the machine. The ice also melts quite easily once the machine turns off, which causes problems in the motor and triggers it to malfunction.
Users also commented this machine cannot hold a lot of water in one go due to its small water tank. Ice capacity is also small for some as they were only able to make 10 pounds' worth of ice in the machine instead of the promised 26 lbs.
Ice-making time was also longer than it promised as some users reported it made ice only after 30 minutes instead of 6 minutes. Some users have also stressed that the machine is too expensive and not worth the price given the quality of its performance.
Bottom line
With appliances now becoming more affordable, things like ice making should now be simpler than ever. With the DELLA 048-GM-48183 Portable Ice Maker, you can make ice for the entire block without ever buying a big and bulky ice maker or without getting your hands frozen and stiff from chipping ice.