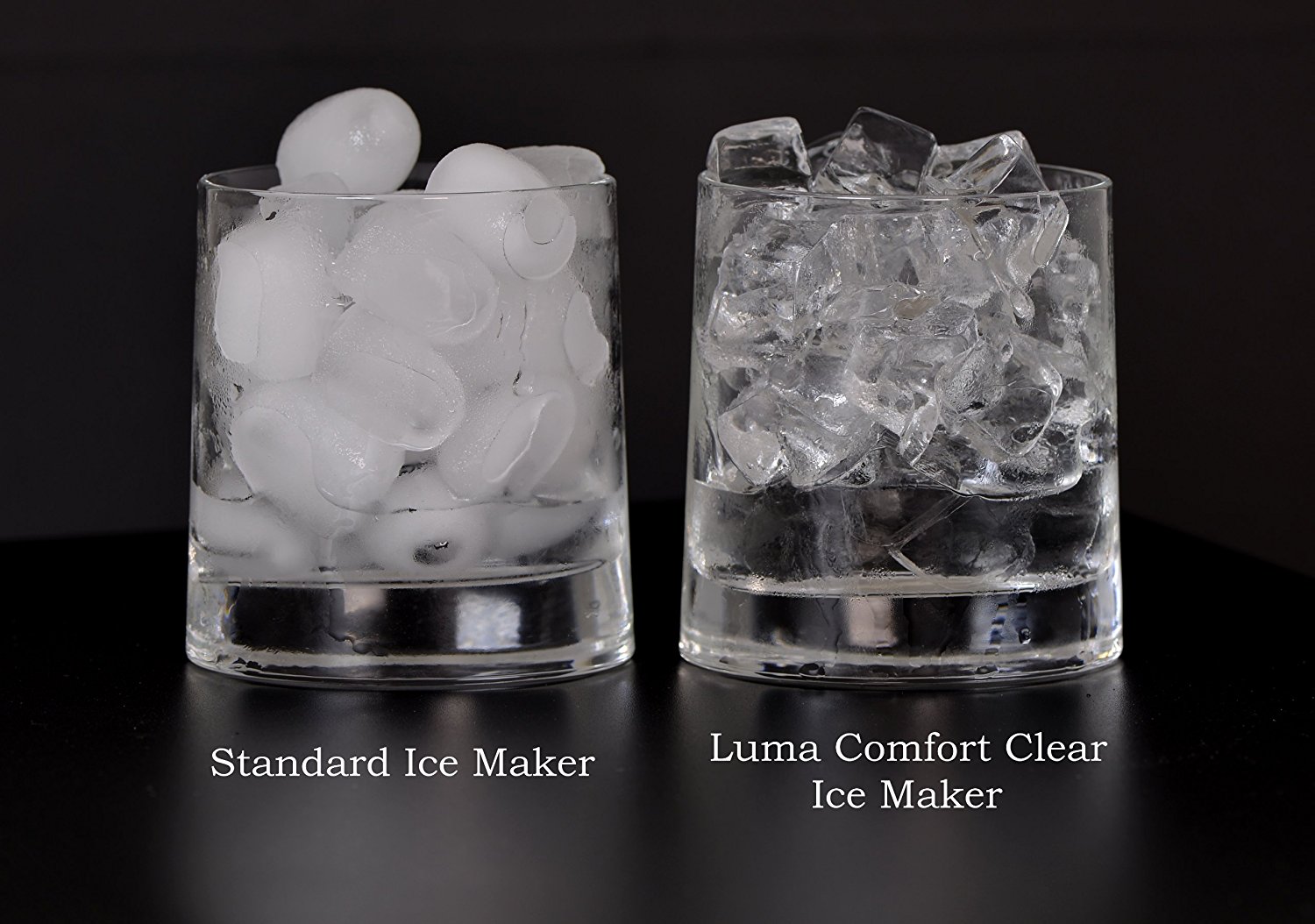 A portable ice maker can be an ideal purchase for those that like to enjoy chilled drinks or entertain large numbers of guests. These appliances are compact, sleek, and great for small spaces. What's more, they create ice that melts far more slowly than standard cloudy ice, which means that you get to enjoy chilled drinks rather than watery ones.
If you have a small kitchen, a home bar, or you want a convenient way to create ice on a boat or in an RV, a portable ice machine provides the perfect solution. You can get many different makes and models, one of which is the Luma Comfort IM200SS 28-pound.
Why should you invest in a portable ice maker?
We all like to enjoy chilled drinks, particularly in the summer. Whether you want an ice-cold soft drink or you want to create sumptuous cocktails, adding ice is the perfect finishing touch. Some people simply make their own ice with tap water and an ice-cube tray. However, there are a number of issues with this. First of all, you can only make a small amount unless you plan to fill your freezer with multiple ice cube trays. Secondly, the ice produced is cloudy ice, which is not only unattractive in drinks but also melts quickly. This leaves you with watered down drinks rather than chilled ones.
Another option is to go and purchase bags of ice from the store. However, this can be a real hassle, as you have to keep going out to purchase them. In addition, they take up a lot of room in the freezer – and they can start to melt by the time you get back from the store with them. Finally, they are not restaurant quality ice cubes, which means that you could have the same problem as you would with homemade ice cubes.
By using a portable ice making machine, you can eliminate all of these issues. You won't have to take up any freezer space, as the machine does everything from making the ice to dispensing it. In addition, you can make large batches of ice, which is perfect if you are entertaining. Finally, there is no need to run out to the store to purchase bags of ice then rush back to avoid it melting. Another great thing about going for a portable one is that you can use it both at home and on your travels in your recreational vehicle or boat.
The key benefits of this ice-maker
When you opt for this Luma ice machine, you can look forward to a range of benefits. Some of the main features that come with this product include:
The ability to enjoy clear ice that melts five times more slowly than cloudy ice
Compact size, which is perfect for smaller spaces
The ability to produce up to 28 pounds of ice each day
Simple to use
Creates first batch of ice in just 15 minutes
Sleek, modern design
You can also look forward to competitive pricing when you opt for this product, making it the ideal affordable solution. The ice cubes come out in sheets, but these are easy to break apart so that you can separate the individual cubes.
Specifications of this ice maker
This is a high spec ice maker, which offers simplicity, contemporary design, and total convenience. The weight of the appliance comes in at 25.5 pounds, and it is made in China. It is a counter top design, and in order to use it all you have to do is plug it in, add water, and wait for the first batch of ice to be produced. This is a standalone appliance made from high quality stainless steel with a plastic door. It runs on 120 volts and has an ice storage capacity of 28 pounds.
You can look forward to the convenience of push button controls and an LED display with this product. The ice produced is clear ice of restaurant quality, which means that it will not melt anywhere near as quickly as standard cloudy ice. The appliance uses modern technology to create ice quickly and efficiently. The display enables you to quickly see if the water is running low. In addition, you can benefit from the full ice indicator on the display.
With its simple controls and plug-and-go design, this ice maker boasts extremely easy and convenient operation. In terms of dimensions, this model stands at 11.3 x 14.8 x 14.1 inches. The appliance has a removable ice bin and you even get an ice scoop included for increased convenience.
Pros and cons of this appliance
If you are looking for an ice maker for the home or for recreational use, there are plenty of portable options for you to choose from. There are a number of reasons why this model has become a popular choice. Some of the pros of this appliance include:
It is competitively priced, making it an affordable choice
It utilizes modern technology
It looks great and is perfect for small spaces
You benefit from modern features including digital display
You get great quality ice that is clear and slow to melt
High specifications and great quality
In addition, it is worth noting that you get a full one year guarantee with this product. This means that you can look forward to protection and peace of mind in the event of a problem with the appliance.
When it comes to cons, there is only really one issue, which is that the machine can be quite noisy when in operation.
Conclusion
With the Luma Comfort IM200SS Portable Clear Ice Maker, you can look forward to convenience, quality, and ease. It is perfect for the summer, for traveling, and for entertaining. Using the same technology as the machines used in restaurants, this machine produces high quality clear ice that is perfect for your chilled drinks. Clear ice looks better than cloudy ice, and more importantly melts more slowly. The machine is quiet, compact, and efficient, making it ideal for your home.